Understand the workflow¶
Workflow is the core of the Osmedeus Engine which represents your methodology as YAML files.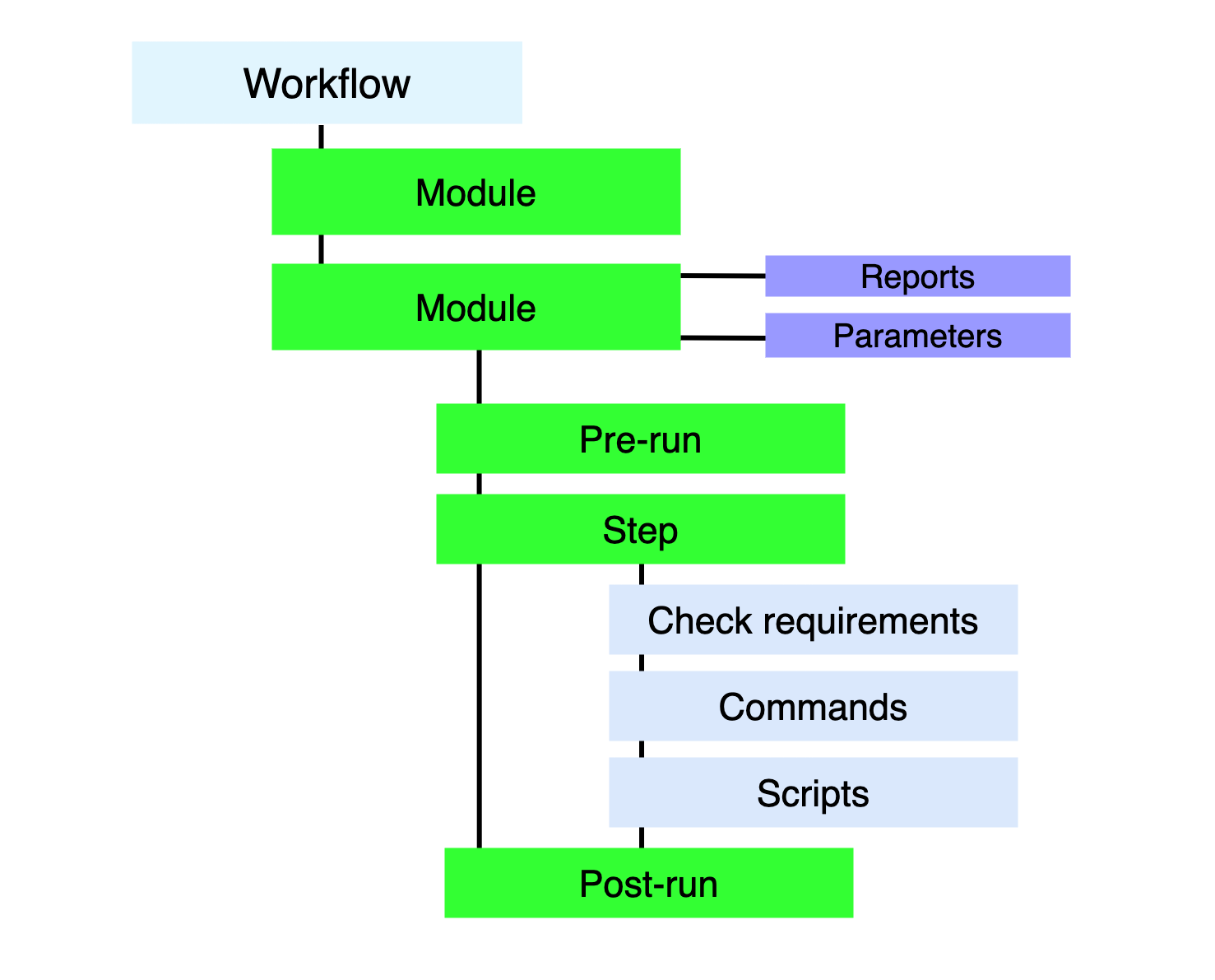 All Workflow files are YAML-based so make sure you follow the YAML syntax. Otherwise, it wouldn't work
Module contains detail of multiple step.
Flow contains multiple module and also define order how to run these modules.
Step is smallest part of the Osmedeus routine.
Example Flow¶
name

:

 

general




desc

:

 

run normal routine




type

:

 

general

 

# this is a folder name that will contains module file




validator

:

 

domain

 

# validate the input provide from -t option





routines

:




  

-

 

modules

:




      

-

 

subdomain




  

-

 

modules

:




      

-

 

probing




  

-

 

modules

:




      

-

 

ssame




  

-

 

modules

:




      

-

 

screenshot




  

-

 

modules

:

 

# these modules will be run in parallel




      

-

 

fingerprint




      

-

 

spider




      

-

 

sto




  

-

 

modules

:

  

# these modules will be run in parallel




      

-

 

archive




      

-

 

ipspace




  

-

 

modules

:




      

-

 

vulnscan




  

-

 

modules

:




      

-

 

vhostscan




  

-

 

modules

:




      

-

 

portscan




  

-

 

modules

:




      

-

 

pdirbscan




  

-

 

modules

:




      

-

 

dirbscan




  

# push final result again




  

-

 

modules

:




      

-

 

summary



Example Modules¶
name

:

 

subdomain




desc

:

 

Scanning for subdomain





report

:




  

final

:




    

-

 

"{{.Output}}/subdomain/final-{{.Workspace}}.txt"




    

-

 

"{{.Output}}/subdomain/more-{{.Workspace}}.txt"





# {{.Output}} == {{.Workspaces}} + {{.Workspace}} but strip "/" char




pre_run

:




  

-

 

CreateFolder("{{.Storages}}/subdomain/{{.Workspace}}/")




  

-

 

CreateFolder("{{.Storages}}/summary/{{.Workspace}}/")




  

-

 

CreateFolder("{{.Output}}/subdomain/")





params

:




  

-

 

subthreads

:

 

"50"




  

-

 

amassTimeout

:

 

"3h"





steps

:




  

-

 

required

:




      

-

 

"{{.Binaries}}/amass"




      

-

 

"{{.Binaries}}/subfinder"




      

-

 

"{{.Binaries}}/assetfinder"




      

-

 

"{{.Binaries}}/findomain"




    

commands

:

 

# these two commands will run in parallels




      

-

 

"timeout

 

-k

 

1m

 

{{.amassTimeout}}

 

{{.Binaries}}/amass

 

enum

 

-config

 

{{.Data}}/configs/amass.ini

 

-d

 

{{.Target}}

 

-o

 

{{.Output}}/subdomain/{{.Workspace}}-amass.txt

 

>

 

/dev/null

 

2>&1"




      

-

 

"{{.Binaries}}/assetfinder

 

-subs-only

 

{{.Target}}

 

>

 

{{.Output}}/subdomain/{{.Workspace}}-assetfinder.txt"




  

# these two commands will run in parallels




  

-

 

commands

:




      

-

 

"{{.Binaries}}/findomain

 

-u

 

{{.Output}}/subdomain/{{.Workspace}}-findomain.txt

 

-t

 

{{.Target}}

 

>

 

/dev/null

 

2>&1"




      

-

 

"{{.Binaries}}/subfinder

 

-d

 

{{.Target}}

 

-t

 

{{.subthreads}}

 

-o

 

{{.Output}}/subdomain/{{.Workspace}}-subfinder.txt

 

>

 

/dev/null

 

2>&1"





  

# cleaning some result




  

-

 

scripts

:




      

-

 

Append("{{.Output}}/subdomain/sum-{{.Workspace}}.txt", "{{.Output}}/subdomain/{{.Workspace}}-amass.txt")




      

-

 

Append("{{.Output}}/subdomain/sum-{{.Workspace}}.txt", "{{.Output}}/subdomain/{{.Workspace}}-subfinder.txt")




      

-

 

Append("{{.Output}}/subdomain/sum-{{.Workspace}}.txt", "{{.Output}}/subdomain/{{.Workspace}}-assetfinder.txt")




      

-

 

Append("{{.Output}}/subdomain/sum-{{.Workspace}}.txt", "{{.Output}}/subdomain/{{.Workspace}}-findomain.txt")




      

# remove junk subdomain like sample@subdomain.com and 1-2-3.subdomain.com format




      

-

 

ExecCmd("cat {{.Output}}/subdomain/sum-{{.Workspace}}.txt | {{.Binaries}}/cleansub -t '{{.Target}}' > {{.Output}}/subdomain/final-{{.Workspace}}.txt")




  

-

 

scripts

:




      

-

 

SortU("{{.Output}}/subdomain/final-{{.Workspace}}.txt")





  

# get more related domains




  

-

 

required

:




      

-

 

"{{.Binaries}}/metabigor"




    

# assume you run 'osmedeus scan -t example.com' then {{.Org}} == 'example'




    

commands

:




      

-

 

"echo

 

'{{.Org}}'

 

|

 

{{.Binaries}}/metabigor

 

cert

 

--json

 

-o

 

{{.Output}}/subdomain/more-json-{{.Workspace}}.txt"




    

scripts

:




      

-

 

ExecCmd("cat {{.Output}}/subdomain/more-json-{{.Workspace}}.txt | jq -r '.Domain' | sed 's/\*.//g' | sort -u > {{.Output}}/subdomain/more-{{.Workspace}}.txt")





post_run

:




  

# delete all files in workspaces folder except a file lists in report section




  

-

 

Cleaning("{{.Output}}/subdomain/")



---
name

:

 

dirbscan




desc

:

 

Run Dirbscan





report

:




  

final

:




    

-

 

"{{.Output}}/directory/beautify-{{.Workspace}}.txt"




    

-

 

"{{.Output}}/directory/paths-{{.Workspace}}.csv"





params

:




  

-

 

inputfile

:

 

"{{.Output}}/probing/http-{{.Workspace}}.txt"




  

-

 

wordlists

:

 

"{{.Data}}/wordlists/content/small.txt"




  

-

 

lines

:

 

"20"




  

-

 

fthreads

:

 

'20'

 

# threads for single site




  

-

 

dirbThreads

:

 

'10'




  

-

 

dlimit

:

 

'50000'




  

-

 

recursion

:

 

'0'




  

-

 

commitLength

:

 

'400'




  

-

 

chan

:

 

'#mics'





pre_run

:




  

-

 

CreateFolder("{{.Storages}}/paths/{{.Workspace}}")




  

-

 

CreateFolder("{{.Output}}/directory")





steps

:




  

# check if the size is too big, We don't want tons of garbage here




  

-

 

conditions

:




      

-

 

"FileLength('{{.inputfile}}')

 

>

 

{{.dlimit}}"




    

scripts

:




      

-

 

ErrPrintf("Filter", "Got input file greater than {{.dlimit}} line")




      

-

 

Exit(1)





  

-

 

required

:




      

-

 

"{{.Binaries}}/ffuf"




      

-

 

"{{.inputfile}}"




    

source

:

 

"{{.inputfile}}"




    

threads

:

 

'{{.dirbThreads}}'




    

commands

:

 

# {{.Binaries}}/ffuf is ~/osmedeus/binaries/ffuf which is a place I store all the binaries but you already install it in your $PATH environment variable then you can just use - "ffuf -t {{.fthreads}} ..."




      

-

 

"{{.Binaries}}/ffuf

 

-t

 

{{.fthreads}}

 

-timeout

 

15

 

-ac

 

-fc

 

'429,403,404'

 

-D

 

-e

 

'asp,aspx,pl,php,html,htm,jsp,cgi'

 

-of

 

json

 

-o

 

{{.Output}}/directory/raw-[[._id_]].json

 

-u

 

'[[.line]]/FUZZ'

 

-w

 

{{.wordlists}}:FUZZ"




    

scripts

:




      

# get result in csv




      

-

 

ExecCmd("cat {{.Output}}/directory/raw-[[._id_]].json | jq -r '.results[] | [.url,.status,.length,.words,.lines,.redirectlocation] | join(\",\")' > {{.Output}}/directory/raw-[[._id_]]-{{.Workspace}}.csv")




      

# join to final result




      

-

 

ExecCmd("cat {{.Output}}/directory/raw-[[._id_]]-{{.Workspace}}.csv >> {{.Output}}/directory/beautify-{{.Workspace}}.csv")




      

# noti small file to telegram




      

-

 

ExecCmd("cat {{.Output}}/directory/raw-[[._id_]]-{{.Workspace}}.csv | {{.Binaries}}/csvtk pretty -I -s ' | ' -W 75 > {{.Output}}/directory/beautify-[[._id_]]-{{.Workspace}}.txt")




      

-

 

TeleMessByFile("{{.chan}}", "{{.Output}}/directory/beautify-[[._id_]]-{{.Workspace}}.txt")




      

# sorting & clean up




      

-

 

SortU("{{.Output}}/directory/beautify-{{.Workspace}}.csv")




      

-

 

ExecCmd("rm -rf {{.Output}}/directory/beautify-[[._id_]]-{{.Workspace}}.txt {{.Output}}/directory/raw-[[._id_]]-{{.Workspace}}.csv {{.Output}}/directory/raw-[[._id_]].json {{.Output}}/directory/unique-[[._id_]].json")




    

# generate final beautify every 400 domains has been scanned




    

pconditions

:




      

-

 

"([[._id_]]

 

%

 

{{.commitLength}})

 

==

 

0"




    

pscripts

:




      

-

 

ExecCmd("cat {{.Output}}/directory/beautify-{{.Workspace}}.csv | {{.Binaries}}/csvtk pretty -I -s ' | ' -W 75 > {{.Output}}/directory/beautify-{{.Workspace}}.txt")




      

-

 

ExecCmd("cat {{.Output}}/directory/beautify-{{.Workspace}}.txt >> {{.Storages}}/paths/{{.Workspace}}/beautify-{{.Workspace}}.txt")




      

-

 

PushFolder("{{.Storages}}/paths/")





  

# clean up and notify to summary channel




  

-

 

required

:




      

-

 

"{{.Output}}/directory/beautify-{{.Workspace}}.csv"




    

scripts

:




      

-

 

ExecCmd("cat {{.Output}}/directory/beautify-{{.Workspace}}.csv | {{.Binaries}}/csvtk pretty -I -s ' | ' -W 75 > {{.Output}}/directory/beautify-{{.Workspace}}.txt")




      

-

 

ExecCmd("cat {{.Storages}}/paths/{{.Workspace}}/paths-{{.Workspace}}.csv | {{.Binaries}}/csvtk pretty -I -s ' | ' -W 75 > {{.Storages}}/paths/{{.Workspace}}/beautify-{{.Workspace}}.txt")




      

-

 

TeleMessByFile("#dirb", "{{.Output}}/directory/beautify-{{.Workspace}}.txt")




      

-

 

ExecCmd('cat {{.Output}}/directory/beautify-{{.Workspace}}.txt')





post_run

:




  

-

 

TotalDirb("{{.Output}}/directory/beautify-{{.Workspace}}.txt")




  

-

 

PushFolder("{{.Storages}}/paths/")



Step¶
steps

:

 

# all the steps will run in serial





 

# variation 1 




  

-

 

required

:

 

# Check if all the files exist or the step will not run




      

-

 

filename-1-here.txt




      

-

 

filename-2-here.txt





    

conditions

:

 

# Boolean conditions check with built-in scripts




      

-

 

"FileLength('filename.txt')

 

>

 

1000"





    

commands

:

 

# unix command and it will be run in parallel




      

-

 

"unix

 

command

 

1

 

here"




      

-

 

"unix

 

command

 

2

 

here"




    

scripts

:

 




      

-

 

ExecCmd("unix command 3 heret")

 

# command 3 and 4 below it will be run in serial




      

-

 

ExecCmd("unix command 4 here")




      

-

 

SortU("filename-here.txt")




      

-

 

TeleMessByFile("#dirb", "beautify-{{.Workspace}}.txt")





    

## only run if conditions is false




    

rcommands

:

 

# run in parallel




      

-

 

"unix

 

command

 

1

 

here"




      

-

 

"unix

 

command

 

2

 

here"




    

rscripts

:




      

-

 

ErrPrintf("Filter", "Got input file greater than 1000 line")




      

-

 

Exit(1)

 

# this will exit the module imeediately





 

#########################





 

# variation 2 that will run the step but with input is each like of 'source' section




  

-

 

source

:

 

"{{.inputfile}}"

 

# source file to loop through




    

threads

:

 

'{{.dirbThreads}}'




    

commands

:

 

# {{.Binaries}} is the path to binaries which usually ~/osmedeus/binaries/ but you can use any tool inside your $PATH environment variable




      

-

 

"{{.Binaries}}/ffuf-mod

 

-H

 

'X-Forwarded-For:

 

127.0.0.1'

 

-t

 

{{.fthreads}}

 

-recursion-depth

 

{{.recursion}}

 

-D

 

-e

 

'asp,aspx,php,html,htm,jsp,cgi'

 

-timeout

 

15

 

-get-hash

 

-ac

 

-s

 

-fc

 

'429,404,400'

 

-of

 

json

 

-o

 

{{.Output}}/directory/raw-[[._id_]].json

 

-u

 

'[[.line]]/FUZZ'

 

-w

 

{{.wordlists}}:FUZZ"




    

scripts

:




      

-

 

SortU("{{.Storages}}/paths/{{.Workspace}}/paths-{{.Workspace}}.csv")